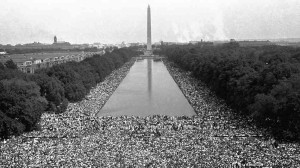 I have never really thought of myself as a "march" type person.  I have strong convictions about a lot of social and political issues.  However, I typically lend my support from afar.  My good friend and business partner, Michele Cordoba, put the 50th anniversary of the March on Washington on my "radar." "Wow, if she and her mother were flying across country to participate how could I – living only 45 minutes away – miss this historical moment in time?"  I felt like I should be there but I wasn't exactly sure why.  Michele and Karen's commitment to come punctuated for me that watching the March on TV or the news accounts later would not suffice.
In addition to committing myself to attending, I committed my 10 year old daughter to go.  She is growing up in a very insulated environment, which often does not provide her opportunities to be connected to some of the realities of living in America.  I want nothing but success for her.  But I don't want her to lose sight of her heritage, history and responsibilities to those less fortunate than herself.  Heck, I need to make sure that I don't lose those things either.
With that said, we were out of our house at 5am on Saturday, August 24th.  I can't say that we jumped out of bed with excitement.  But we made it.  I had arranged for us to ride to the March on a free bus provided by one of our local politicians.  I was trying to beat what I anticipated would be a horrendous parking situation in DC.  Well, I got lost on the way to the meeting location.  The bus was to depart at 6am and we were just pulling up at 5:58am.  All I could think about was… "AAAHHH, they are going to leave us and I will have to drive to DC!"
Well, an hour later we were all still sitting in the parking lot waiting for the bus to arrive!  I was so angry. I could have slept another hour.  It was chilly outside and I had not planned for it.  So, me and my daughter sat in my car with the heat on and did not get out to mingle with the others that gathered for the ride to this historic occasion.   Most of them were out of their cars sharing a little breakfast and getting to know each other.  Instead, I did a little pouting and snoozed a bit.  I also noted how few people had come for this free transport (20-30) and thought, in my new elevated mindset of being a "march" type person, how sad it was that so few people from Baltimore thought that this commemoration was important.
Well, the bus finally arrived.  We all lined up and boarded in an orderly fashion and we were off!  I could immediately feel the warmth of the group on my bus.  One woman immediately offered my daughter a blanket to wrap up in because she was still a little chilly.  Others chatted about where they were from and why they had opted to come.  Several proudly shared with us that they were marching because they had been on the March 50 years prior.  We suddenly were wrapped up in our bus community.
We arrived at RFK stadium at about 8am with hundreds of busses from all up and down the East Coast.   I imagined that none of the buses were full and this, to me, was initially disappointing.  However, upon contemplation, I thought about how each one brought a group similar to ours and the cumulative effect was a HUGE crowd at the stadium.
Lesson 1: Individual and small group efforts are the foundation of a movement.
I was absolutely amazed at the organizational skill required to move this mass of humanity off buses, connect them with Metro passes, lunch and t-shirts and to move them several blocks to the Metro and then through the Metro to the Mall.  Spirits were high and the group assembled could not have been more helpful and concerned about each other.
Lesson 2:  A common good unites the masses.  The social issues that impact our communities the most are related and converging.
Oh my goodness!  When we came out of the Metro, there were people EVERYWHERE!  (Did I mention that I am not a crowd person?)  But that mass of humanity moved with respect for everyone toward the location of the March speeches.  However, in that heat and mass of people, I started to regret bringing my daughter.  She seemed to be melting.  She was hot, hungry and tired.  But we plugged on.  I really wanted to experience the March and I wanted to meet up with Michele and Karen.  "Heck, the hard part was over…we were here."
After awhile, for me, the sea of people became a study of individuals and smaller groups.  I could identify families, sororities, church groups etc…..I also started paying attention to T-shirts and posters and soap box speeches.  These were used to highlight issues such as the Trayvon Martin case, public education, healthcare access, voting rights for DC, women's rights, immigration, human trafficking and restrictions on voting rights.
It was very difficult to hear many of the speeches made during the day, though we did make it to very near the speech platform and sat under a speaker.  However, from what I did hear, many of the preeminent leaders asked to speak spoke about the interplay of many of the social issues that impacting our society.  Happily, the list of issues included the Trayvon Martin case, public education, access to healthcare, voting rights for DC, women's rights, immigration, human trafficking and restrictions on voting rights. Thank goodness, the Leadership seems to be in tune with the needs of the masses.
In the August 28, 1963, "I Have a Dream" speech MLK gave the rationale for the March.  He said:
"In a sense we've come to our nation's capital to cash a check. When the architects of our republic wrote the magnificent words of the Constitution and the Declaration of Independence, they were signing a promissory note to which every American was to fall heir. This note was a promise that all men – yes, black men as well as white men – would be guaranteed the unalienable rights of life, liberty and the pursuit of happiness… America has given the Negro people a bad check, a check which has come back marked 'insufficient funds.'"
Well, in this March 50 years later, it seemed to me that America has written a bad check to a whole lot of people.
Lesson 3:  Racial equality will not be what unites us.  We are being united by social issues.  And, unfortunately, we sill have a long way to go.
Although the crowd was predominantly African American, I was so impressed to see Whites, Hispanics and Asians well represented and just as passionate about issues impacting our society.
"I have a dream that one day this nation will rise up and live out the true meaning of its creed: "We hold these truths to be self-evident: that all men are created equal." I have a dream that one day on the red hills of Georgia the sons of former slaves and the sons of former slave owners will be able to sit down together at a table of brotherhood."
–       "I Have a Dream", August 28, 1963
The heterogeneity of the crowd was even more pervasive than a visual scan could capture.  The collective "we" that day, included diversity in sexual orientation, political views, socio-economic levels, education, religion, age, ethnicity….The crowd represented various segments of our community who feel and are still disenfranchised….237 years after the founding of the United States, 148 years after the Emancipation Proclamation and 50 years after the March on Washington.
BTW…after a very long, hot day my daughter thanked me for bringing her to Washington, DC for the commemorative March.  I can't think of anything better to have shared with her.